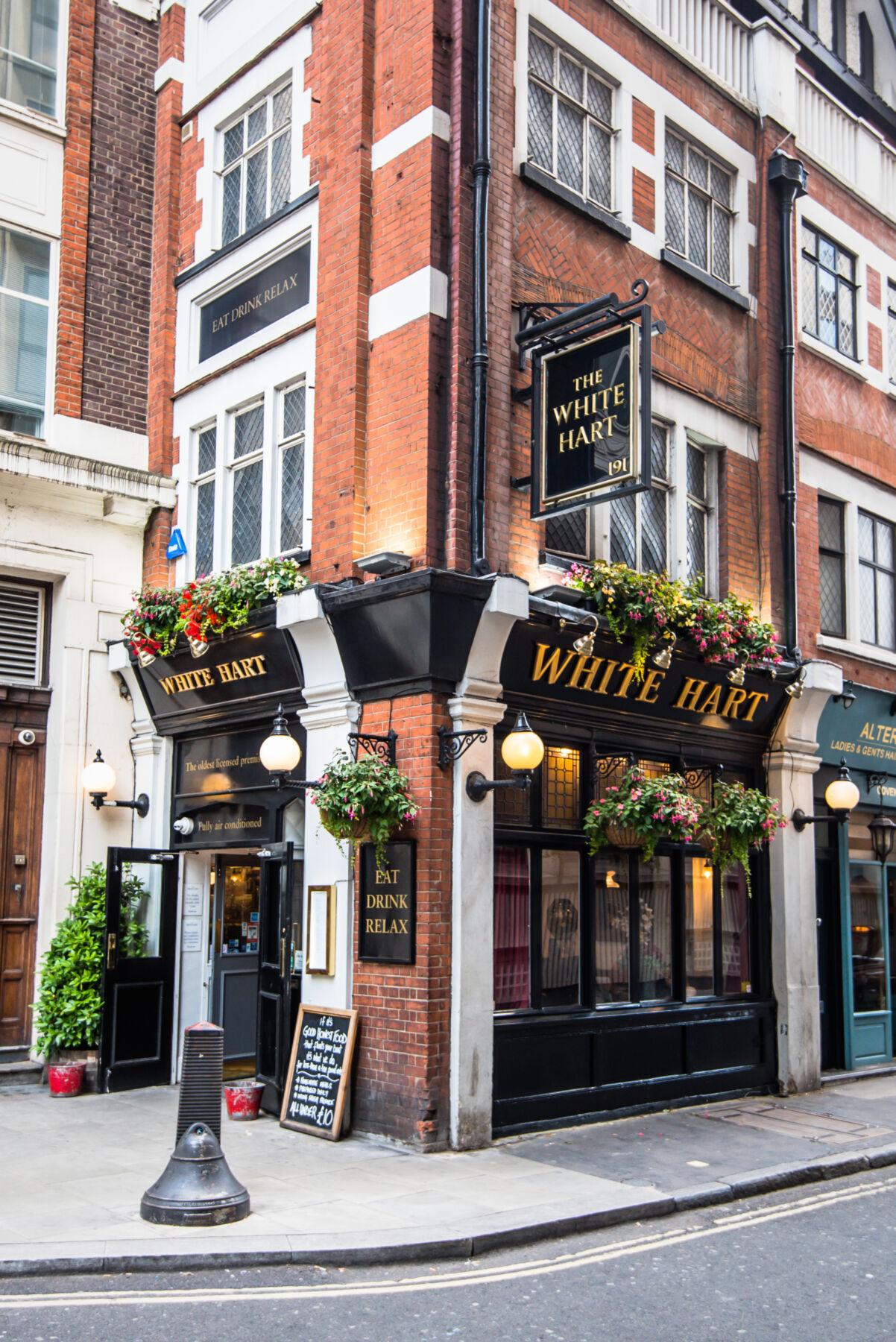 The White Hart - Booking Enquiry
About The Pub
Our first born. Acquired in 2003, nestled in equally close distances between Covent Garden and Holborn tube stations, The White Hart is conveniently located on the edge of Covent Garden. Steeped in a rich and colourful history, the bar is now a regular spot for local theatre cast, crew, businesses and visitors to London. Whether your looking for a drink with friends, a home-cooked meal or dancing the night away to the early hours over the weekend with our resident DJs our Manager, Kristoff and his team, will make you feel welcome.

Our Food Menu

We are proud of our freshly prepared, British pub menu. Where possible we use locally sourced suppliers and ingredients and whilst we make sure not to compromise on quality – our menu is also excellent value for money

Buffet Menu

Our bespoke menu caters for all parties from 20 – 200 people. Its designed to ensure we satisfy every appetite! However, we are also happy to tailor make a buffet to suit your needs and event so just contact us for more info

Our Wine Menu

Our wine menu been carefully selected to offer a variety of both old and new world wines. We endeavour to keep the menu value for money whilst offering quality wines sourced from our family owned wholesaler, Tolchards
Reviews
"Pre-Theatre Drinks" We felt so welcome by both the door and bar staff, we felt like it was our local! Thank you all for making us feel so welcome. Amazing door man, what a treasure!

Date of visit: June 2023

"Good Times, Good Food, Good Value and Excellent Service" What a find, my friend and I were staying just down the road, at the travel lodge Drury Lane, and a couple of minutes down the road we found this pub. It was brilliant, all the staff were so friendly, and helpful. We had a cocktail and dinner, before heading off to a show. We had planned to go strait back to the hotel after the show as we had an early start for the coronation, but as they were so friendly we decided to go back for their Prosecco Royale cocktail they had made to celebrate the coronation, very moreish. The music was good as well, not so loud that you couldn't hear each other talk. The food was good, I had Chicken Caesar Salad and my fried had Chicken Parmigiana, which was massive, with the cocktails it came to £44.72, which we thought was a good price. The door man was lovely as well, we were a couple of older ladies but everyone was happy to chat with us, and they recognised us when we came I; the next night, which in a large city is really good. We are going to bring our husbands next time, as we know they will like the vibe, the food.

Date of visit: May 2023

"Great Fun" Went there on a Saturday night with friends. The drinks flowed freely, and the atmosphere was tremendous fun. What a great night!

Date of visit: July 2023
Opening Times
Monday to Wednesday: 12:00pm - 11:00pm
Thursday: 12:00pm - 12:00am
Friday and Saturday: 12:00pm - 02:00am
Sunday: 12:00pm - 8:00pm
Bookings, Enquiries, Feedback

We're always up for a chat!