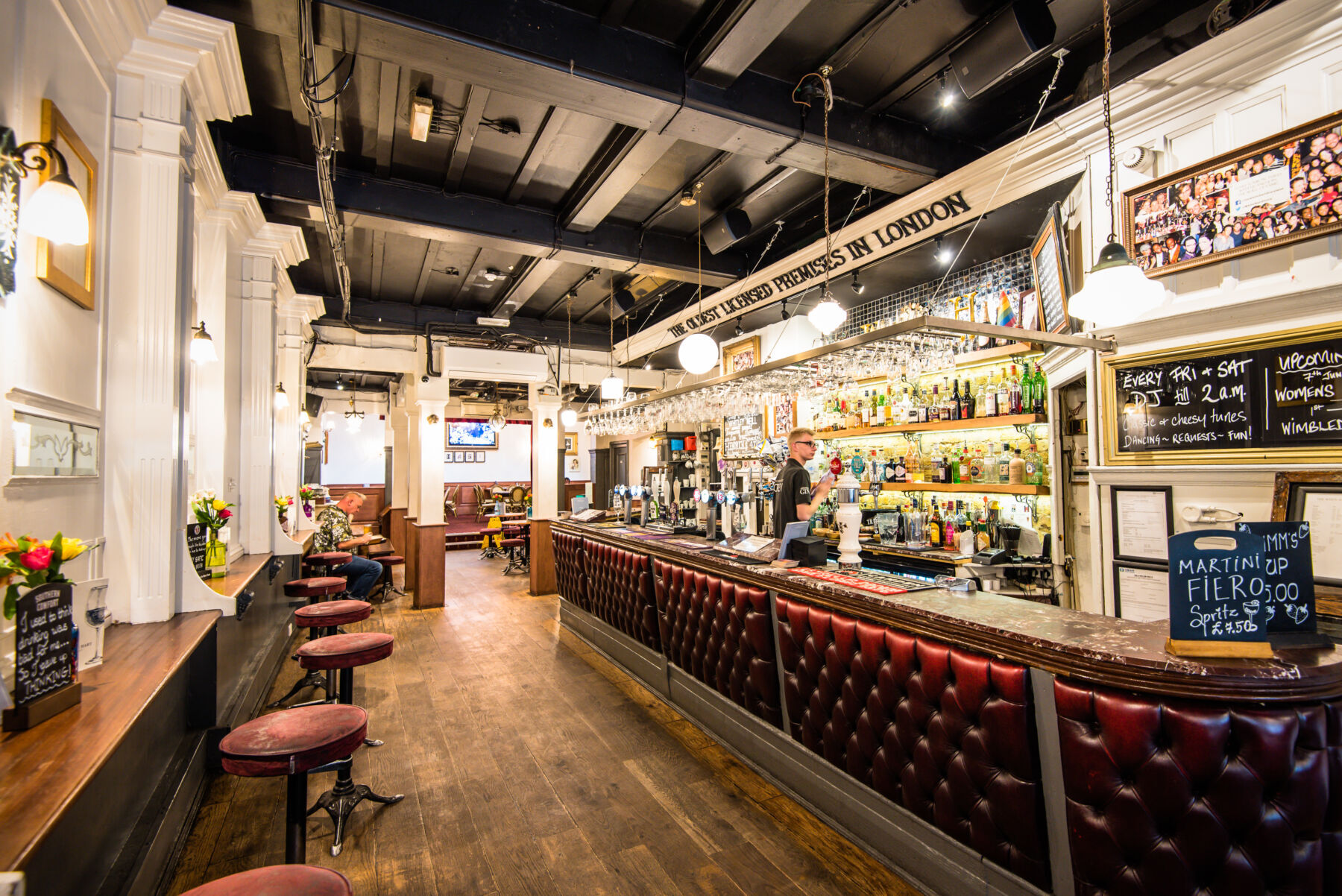 The White Hart - Booking Enquiry
What's On
1-14 March
6 Nations is back... Watch all the live action here!
4 March 20:30
Baz & Dave - Sing Along Knees Up. Think Chaz & Dave meets Jules Holland! Free entry!
Every Friday 22:00
DJ Albert is spinning all your fav tunes and requests!
Every Saturday 22:00
Dance the night away with our DJ Alex till 2am!
About the Pub
Our first born. Acquired in 2003, nestled in equally close distances between Covent Garden and Holborn tube stations, The White Hart is conveniently located on the edge of Covent Garden. Steeped in a rich and colourful history, the bar is now a regular spot for local theatre cast, crew, businesses and visitors to London. Whether your looking for a drink with friends, a home-cooked meal or dancing the night away to the early hours over the weekend with our resident DJs our Manager, Kristoff and his team, will make you feel welcome.
Our Food Menu

We are proud of our freshly prepared, British pub menu. Where possible we use locally sourced suppliers and ingredients and whilst we make sure not to compromise on quality – our menu is excellent value for money (It's all under £10!)

Our Wine Menu

Our wine menu been carefully selected to offer a variety of both old and new world wines. We recommend you try the Chapel Down Brut NV. A great example of a classic English sparkling wine, grown and produced in Kent.

Our Buffet Menu

Our bespoke menu caters for all parties from 20 – 200 people. Its designed to ensure we satisfy every appetite! However, we are also happy to tailor make a buffet to suit your needs and event so just contact us for more info
Reviews
This must be one of the best old London pubs. So much history. The staff are very kind and helpful. Food is excellent. Thank you guys for looking after us so well. 10 out of 10. Perfect!

Date of visit: October 2019

This is my local pub near my work for over 20 years. Lovely food and fantastic atmosphere all year round. It is known for being one of the oldest licenced pubs in England. Come visit and if you love salad, I recommend chicken ceaser salad. It's delicious.

Date of visit: October 2019

"Reasonably Priced Food at £10 or Less" We visited this pub as a family a few times. The draught beer is competitively priced and good quality (Tribute, Doombar) at £4.60 a pint. The food here is also very good and cooked freshly (signs up explaining this so don't complain if it takes 5 or 10 mins to get to your table). The bockwurst German hotdogs were great value at £10 for two served with fried onions and mustard. The rest of the menu is also appetising with all items less than a tenner. A typical London pub with great staff and a great atmosphere. Recommended.

Date of visit: October 2019
Opening Times
Mon - Thu: 11:00am - 12:00am
Fri & Sat: 11:00am - 2:00am
Sun: 12:00pm - 8:00pm
Bookings, Enquiries, Feedback

We're always up for a chat!